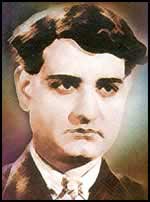 Kundan Lal Sehgal was born on 11th April 1904 in Jammu State. His father Amar Chand Sehgal was employed with Maharaja Pratap Singh. His mother Kesar Kaur was deeply religious and she used to take young Kundan to various religious functions where Bhajans and Keertans were sung in traditional styles. Kundan often accompanied his father to the interior parts of the State where he would listen to the folk music. At the age of 12 he sang a Meera Bhajan in Pratap Singh's court. The Maharaja was impressed and predicted that Kundan had a bright singing future. He did not have a formal training in classical music but his extraordinary musical perception made him absorb the notes that he heard. However, he wished to be Ustaad Faiyyaz Khan`s student. After listening to K.L. Sehgal sing, Khan Saheb later said "I have no knowledge with me to make you a better singer than you are."

His formal schooling was brief and uneventful. He started earning by working in the Railways as a timekeeper and was posted at the Moradabad train station. Later he was based in Simla at the Remington Typewriters as a salesman, which allowed him to tour India. Meanwhile, his passion for singing continued. Finally, he met Rai Chand Boral, the highly respected music director of the pioneering film company New Theatres on a visit to Calcutta. R. C. Boral thought he was talented and employed K. L. Sehgal on a contract basis.
He acted in Mohabbat Ke Ansoo, Subah ka Sitara and Zinda Laash released in 1932, though these films did not do well. In 1933 his Bhajans in the film Puran Bhagat created a sensation throughout India. These included - Radhe Rani De Daaro Na Bansari Mori and Bhajoon Main To Bhaav Se Shri Girdhari. Films that followed were Yahoodi ki Ladki, Chandidas and Rooplekha.

The real breakthrough came soon thereafter in 1935 with the film Devdas, based on Sharat Chandra Chatterjee's novel. In this film, Jamuna played Paro and Rajkumari played Chandramukhi. The songs of this film, like Baalam Aye Baso More Mann Mein, Dukh Ke Ab Din Beetat Naahin and Piya Bin Nahin Aavat Chain were hummed in all the corners of India.

This was followed by successful movies with Sehgal in the main lead. Films like Karwan-e-Hayat (1935), Krorepati (1936), Pujarin (1936), President (1937), Dharti Mata (1938), Street Singer (1938), Dushman (1939), Zindagi (1940), Lagan (1941) and My Sister (1944) were popular mainly for his singing. There are a number of immortal songs of this era which form the rich heritage of film music in India such as Do Naina Matwaare Tihaare (My Sister), Mai Kya Jaanoo Kya Jaadu Hai (Zindagi), Preet Mei Hai Jeevan Dushman), Ik Bangla Baney Nyara (President), Ai Katibe Taqdir Mujhe Itna Bataa De (My Sister), Nain Heen Ko Raah Dikha Prabhu (Bhakta Surdas), Tarpat Beete Din Raen (Chandidas), Soja Rajkumari (Zindagi) and the unforgettable Babul Mora (Street Singer).
In December 1941, Saigal came to Bombay where he acted and sang in a number of hit films like Bhakta Surdas, Tansen, Bhanwara, Kurukshetra, Omar Khayyam, Tadbeer, Shahjahan and Parwana with songs such as Diya Jalao Jagmag Jagmag (Tansen) and the Shah Jahan songs Chah Barbaad Karegi, Gham Diye Mustaqil and Jab Dil Hi Toot Gaya.

He was known to be an alcoholic and he had trouble singing without having had a drink first. This lead to liver problems and he died at the young age of 42. He sang many songs in his 15 year career.

Today while Kundan Lal Sehgal is gone, his music is immortal.

Please note all information provided about Kundan Lal Sehgal was taken from various articles I found on the internet. None of this is my own original essay. I just took what I found and compiled it here.
Click here to read good article about Kundan Lal Sehgal.